Bead Gypsies present the Enchanted Bead Retreat at Tamaya Hyatt Regency Resort
30March – 3April 2017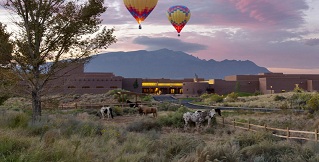 Join Betty Stephan, Huib Petersen, and Nikia Angel at Tamaya resort and spa on the Santa Ana Pueblo near Santa Fe, New Mexico for the Premier Enchanted Bead Retreat. We'll have three days of classes (one with each teacher) sumptuous lunches, evening events and social beading. There are nature trails to explore, stables with horses to ride, golf course, and shuttle to Santa Ana Casino! Great restaurants a short ride away or go a little farther and the city of Albuquerque awaits.  Santa Fe is a light rail ride away through the beautiful New Mexico landscape.  And, then, there will be the April Fool's Masquerade Ball.  Costume, jewelry, masks, hats…join us for a magical dress up event!  Check out our Pintrest page for costume ideas!
We would love to have you join us!
March 30-April 2, 2017 Registration Open now!  Register here … Hurry spaces are limited!
Bead Different!  We'll have a Ball!
Visit our Facebook group!